Birthdays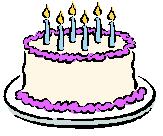 Your child's birthday is a very special day and I would like to honor your child without having a birthday snack.  We are moving away from birthday snacks for a variety of reasons.  First of all, we have many students with allergies or dietary restrictions and we don't want to exclude any child from the celebration.  Secondly, we are trying to promote healthy living and making good choices about food.  In lieu of sending in a birthday treat, I would  like to suggest the following ideas.  You could have your child bring in a special book for me to read and share on their day.  You could also send in a small item (pencils, erasers etc..) to give to each of your child's classmates or you can donate a book to the classroom library.  
---
Homework

Homework will be assigned each night Monday through Thursday. The students are expected to read for at least 20 minutes every night Monday through Thursday and at least 30 minutes during each weekend.  A reading project will assigned each month which will be due on the last school day of the month.  It is also important that the students practice their addition and subtraction facts on a regular basis.  We will be studying multiplication and division in third grade.  It is much less overwhelming for children to learn these new facts if they have already mastered their addition and subtraction facts.
Lunch and Recess

Recess and lunch will begin at 10:40 and end at 11:30 daily.  Because we will be having recess prior to lunch this year, it will be necessary for you to send your child to school with a wallet or small change purse if he/she will be purchasing lunch.  Please make sure you label this wallet or change purse with your child's name.  A wallet is not necessary if you plan to prepay for lunches by sending in a monthly check, but is recommended if your child will be purchasing a snack. We take the children outside for recess everyday unless the weather is too severe.  Please remember to send your child with the appropriate clothing to keep him/her warm and dry at recess during the winter months.
Scholastic Book Orders
I will send home a Scholastic Book Order each month.  There is no obligation to purchase anything.  The flyers are a great resource for parents who are looking to enhance their family library with books at a great price.  Most books are $3.99 or less.  Parents are often asking me what books children enjoy in third grade.  The flyers are a great advertisement for high interest, grade 
level titles.  Ordering online is quick and easy once you have set up an account.  Our classroom online code is GTZNB.