If you are going to pick-up your child at dismissal time or if you are going to make any other special dismissal arrangements (including after-school activities) please send in a note with your child on that day. If you need to make different arrangements during the school day please call the office. 
---

Homework may be requested after two days of absence. It will be available in the office after 3:00 p.m. upon request.  Assignments are not provided to students before a vacation. Students are expected to make up work when they return.
---
BIRTHDAYS

We are happy to celebrate birthdays in class. Due to allergies we can not have any treats come into the room. The class will make a birthday card for your child and sing happy birthday. Mrs. Johnston will be giving your child a bookmark and a free homework pass to use at your child's 
convenience. 
---

FIELD TRIPS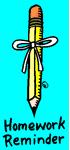 Homework is given every night, Monday through Thursday. It should take the
children between 30 and 45 minutes. Reading is included in this amount of
time. P
lease encourage your child to read whenever possible!! 
Each of these weeknights a grammar, reading, writing, science OR social studies assignment will be given. 
Math will be given each night to correspond with the lesson taught in class. 
Occasional at home projects will be sent home throughout the year.
---
ROOM MOTHERS